100L Stainless Steel Tank Bottom Magnetic Mixer/Industrial Magnetic Stirrer Machine/Magnetic Mixing Tank ( Accept customized )
stainless steel mixing tank could be used in food, beverage, pharmacy, chemical industry,wine and alcohol etc industries. The
inside surface finish of stainless steel mixing tank is Mirror polished, Ra<0.4um. The welding are polished to ground smooth.
There are various agitator options of stainless steel mixing tank: impeller type, Anchor type, Turbine type, High shear mixer,
magnetic mixer. The mixing tank could be made with or without jacket.
stainless steel food grade mixing tank could be made with or without jacket. Jacket type including full jacket, Dimple jacket,
Heating coils. Heating and cooling type including steam heating and electric heating.
Parameters
Material: SUS304 or SUS316L
Volumn: 100L ~50, 000L
Agitator brand: Chinese brand or European brand
Agitator type: Propeller type, anchor type, scraper type, etc.
Agitator seal: Alloy mechanical seal
Structure: Single layer or with Jacket, jacket for heating(can pass steam, hot water, hot heating oil)
Jacket for cooling, or jacket for both heating and cooling)
Jacket type: Dimple jacket, coil tube.
Temperature Isolation material: PU foam or rock wool
Motor speed: Fixed(36rpm, 60rpm, etc), Adjustable(like 10-100rpm) through frequency inverter.
Reducer type: Cycloidal reducer, stepless speed reducer
Head and bottom: Conical head and bottom or dish head and bottom
Heating way: Steam heating or electricity heating
Design: Easy to operate.
Power: 380V/3/50Hz, 220V/3/60Hz.
Finish: Sanitary finish, without dead angle. Internal surface is mirror polished, outside surface is satin finish.
Tank: This tank is customized, please send us your requirements of the tank.
Configure:
Sanitary manhole, agitator, inlet and outlet, 360 degree rotation spray ball, aseptic air vent, thermometer,
Manometer, level gauge, etc.
Ladder(if needed)
Adjustable legs
We Can Design The Drawings According To Your Requirements
Tank Volume
From 50L upto 50000L
Material
304 or 316 Stainless steel
Insulation
Single layer or with insulation
Top Head type

Dish top, Open lid top, Flat top

Bottom type
Dish bottom, Conical bottom, Flat bottom

Agitator type
impeller, Anchor , Turbine , High shear, magnetic mixer, Anchor mixer with scraper
magnetic mixer, Anchor mixer with scraper
Inside Finsh
Mirror polished Ra<0.4um
Outside Finish
2B or Satin Finish
Application
Food, Beverage, pharmacy, biological
honey, chocolate, alcohol ,chemical industry etc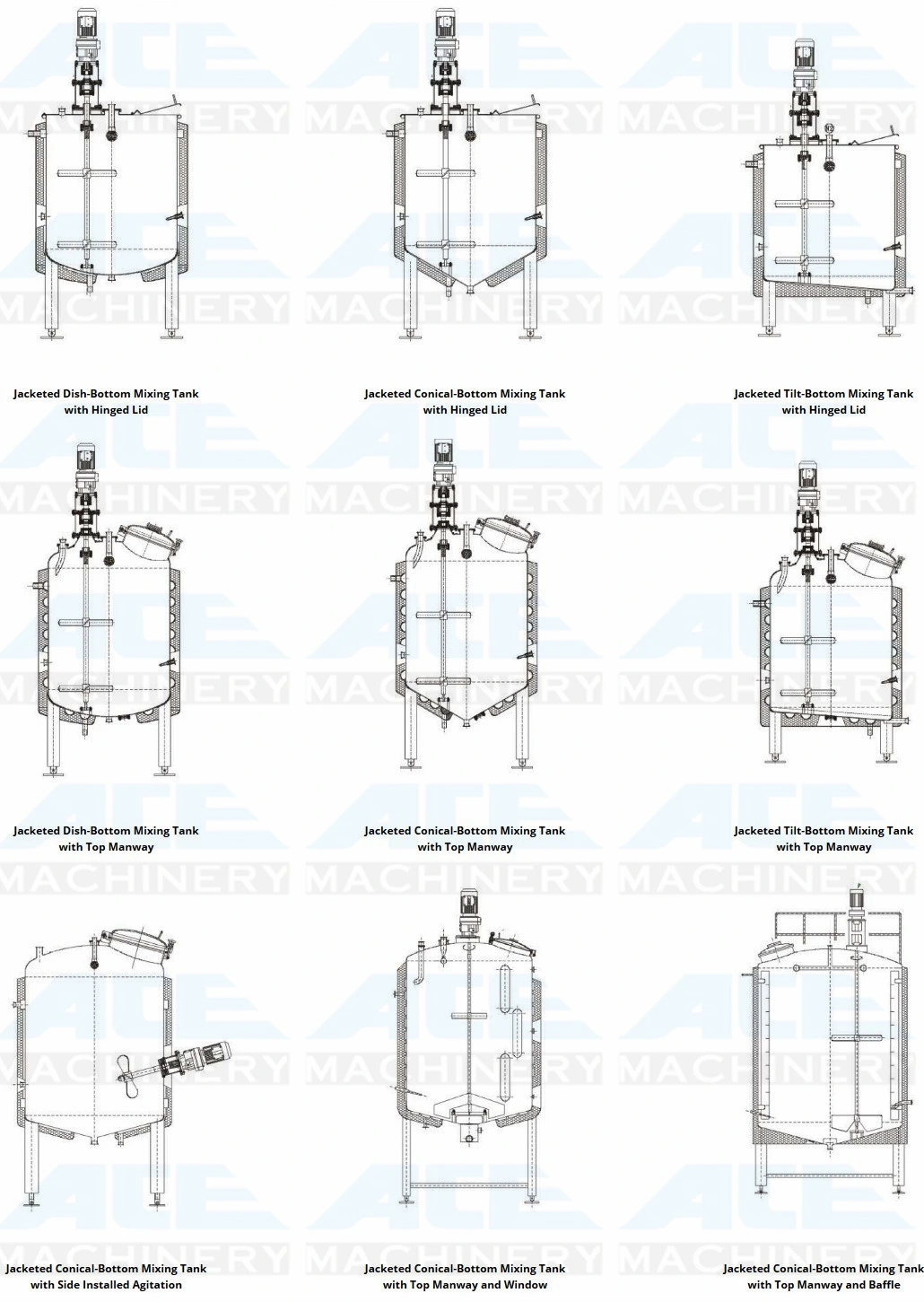 Product pictures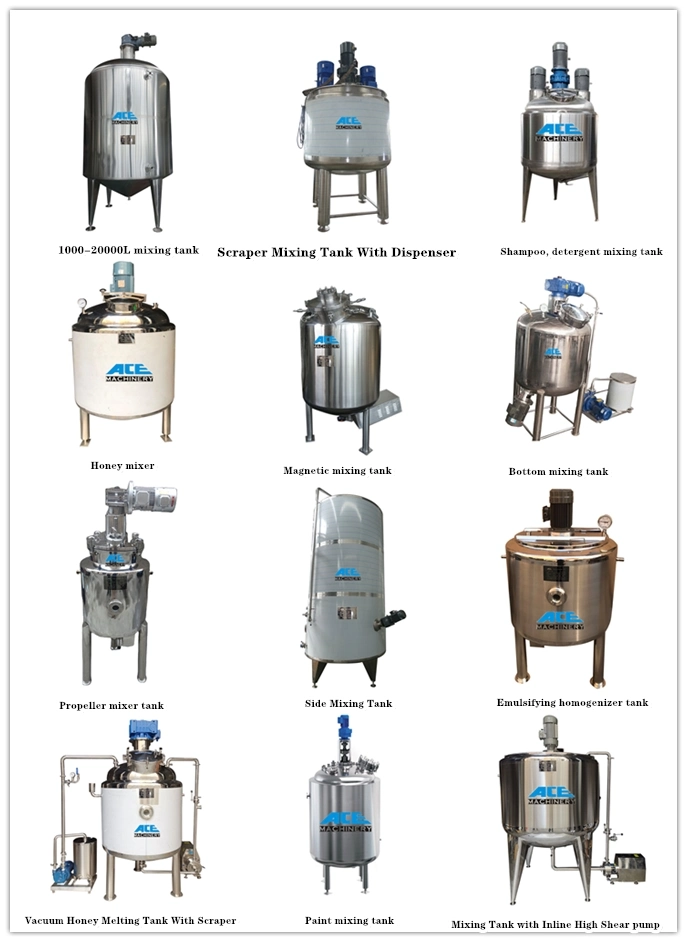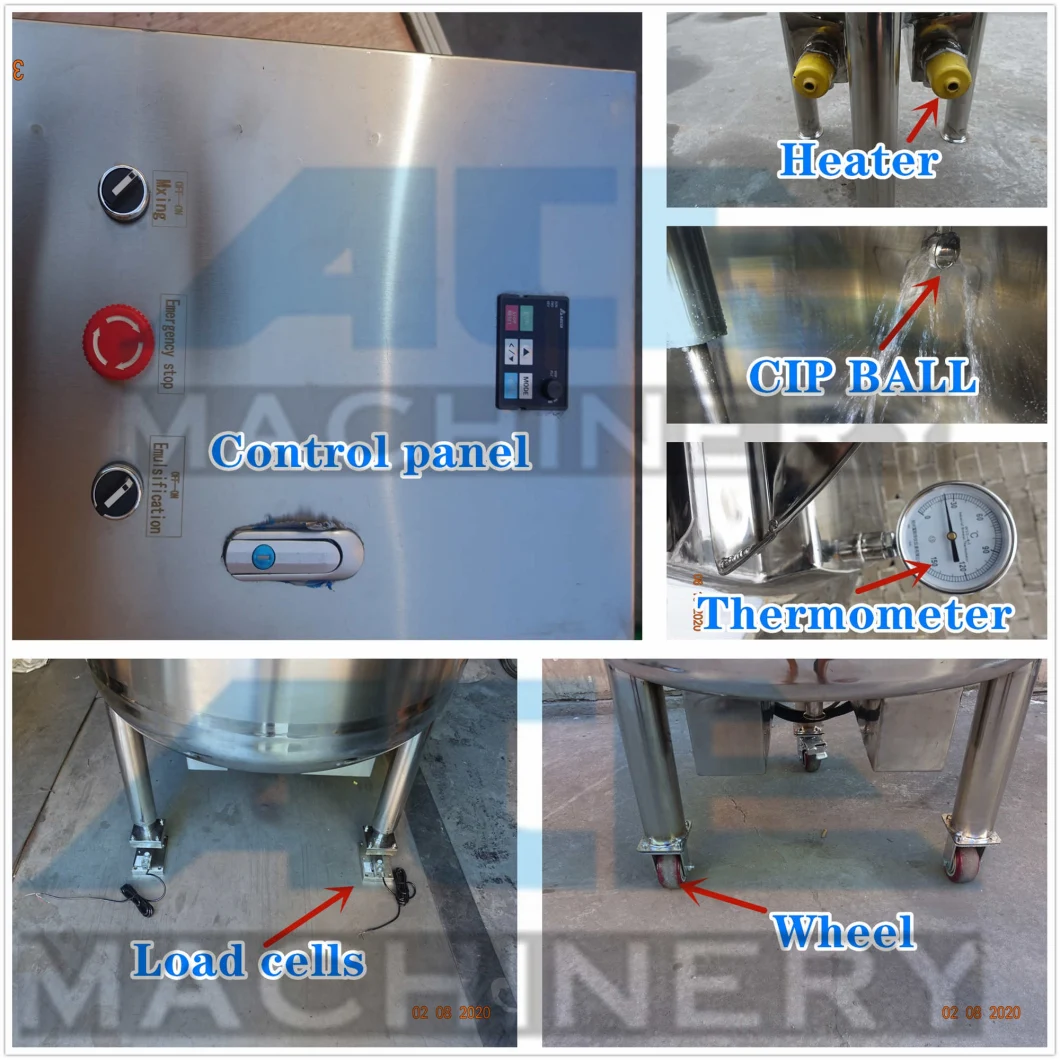 Agitator Inside The Tank, We Have Different Types: Homogenizer, Paddle, Frame, Anchor, Clover Propelled, Stirrer With Scraper ( Other Agitator can be customized )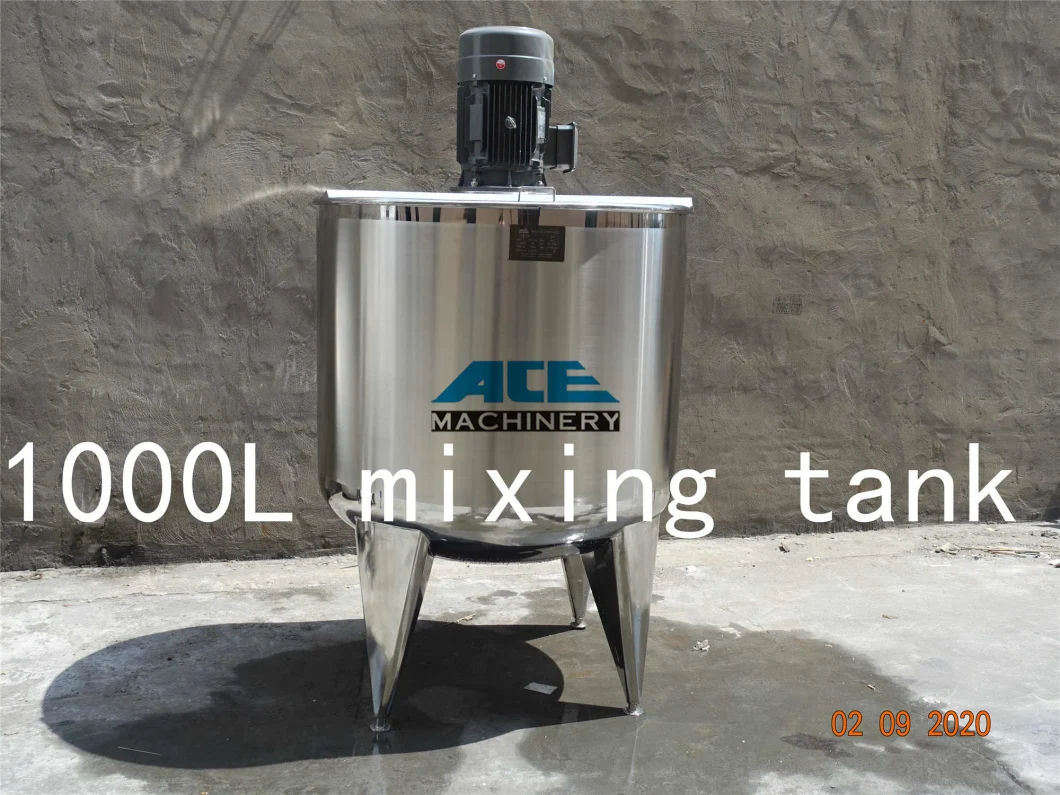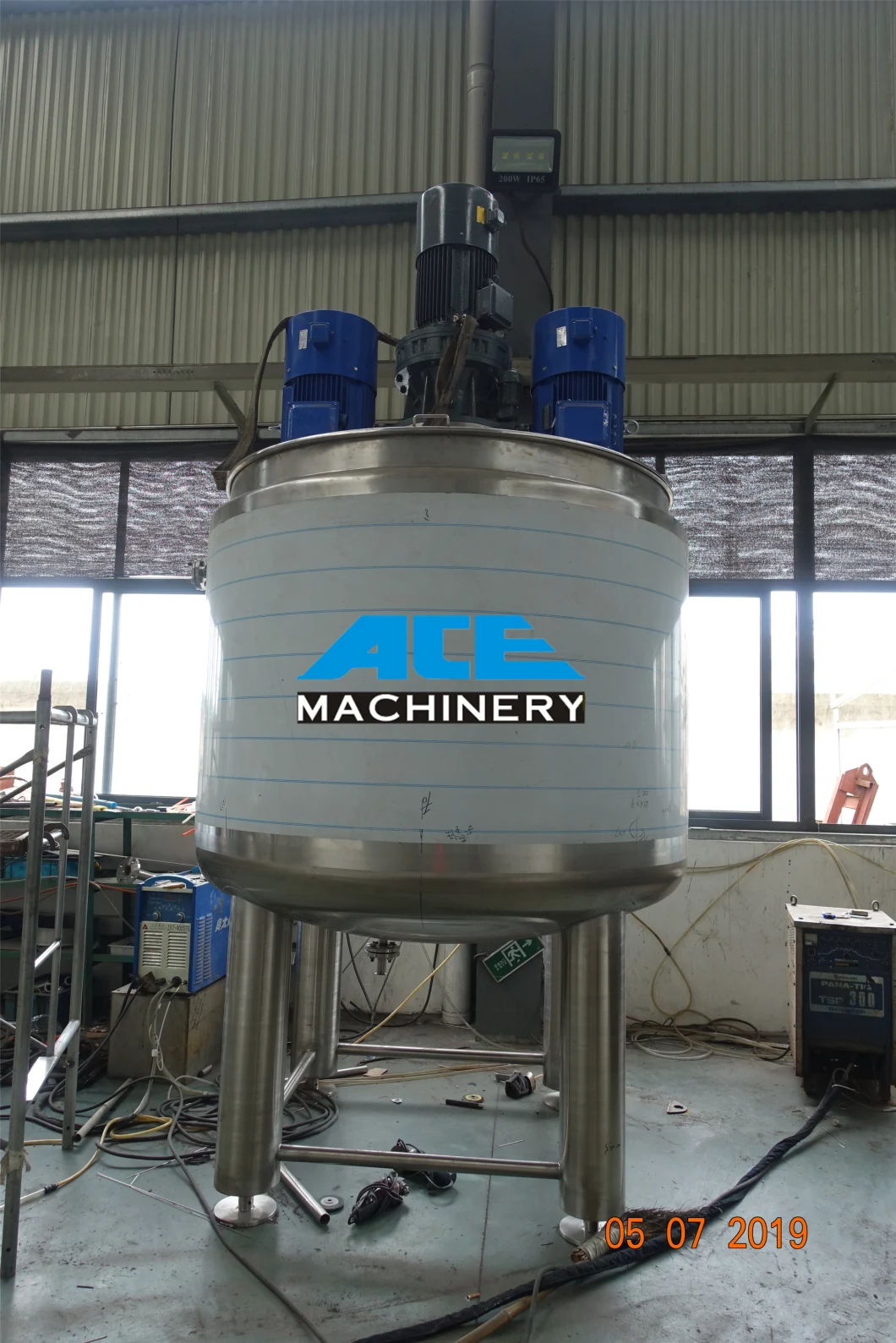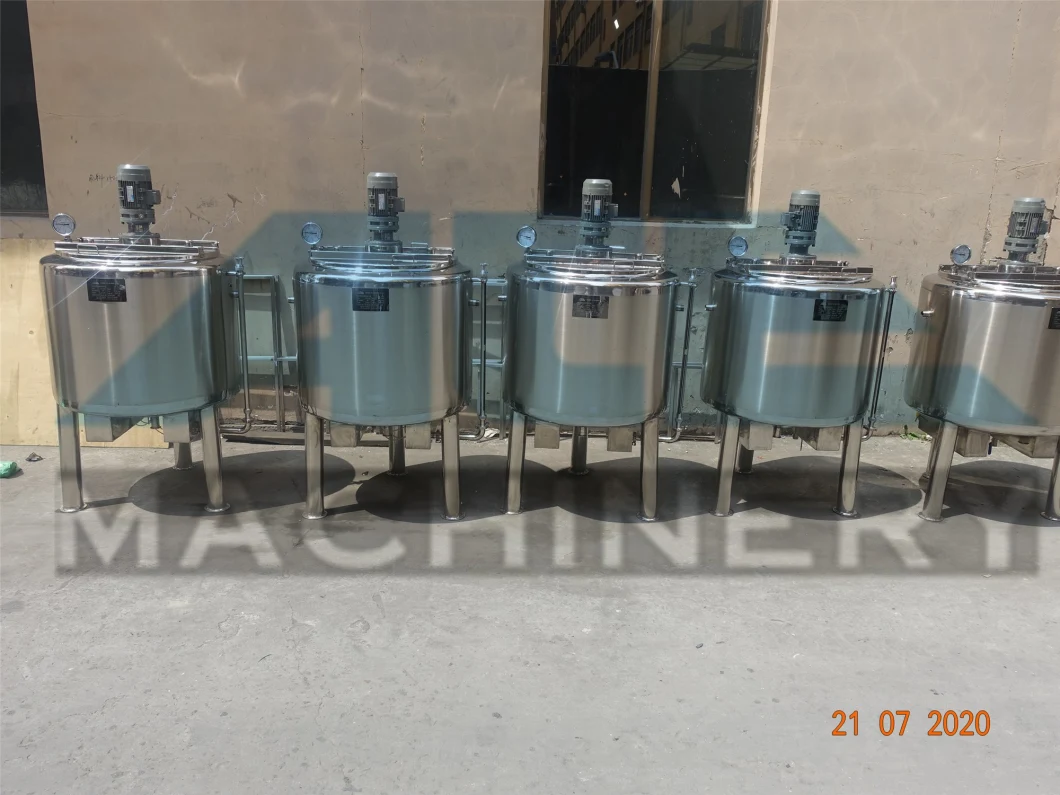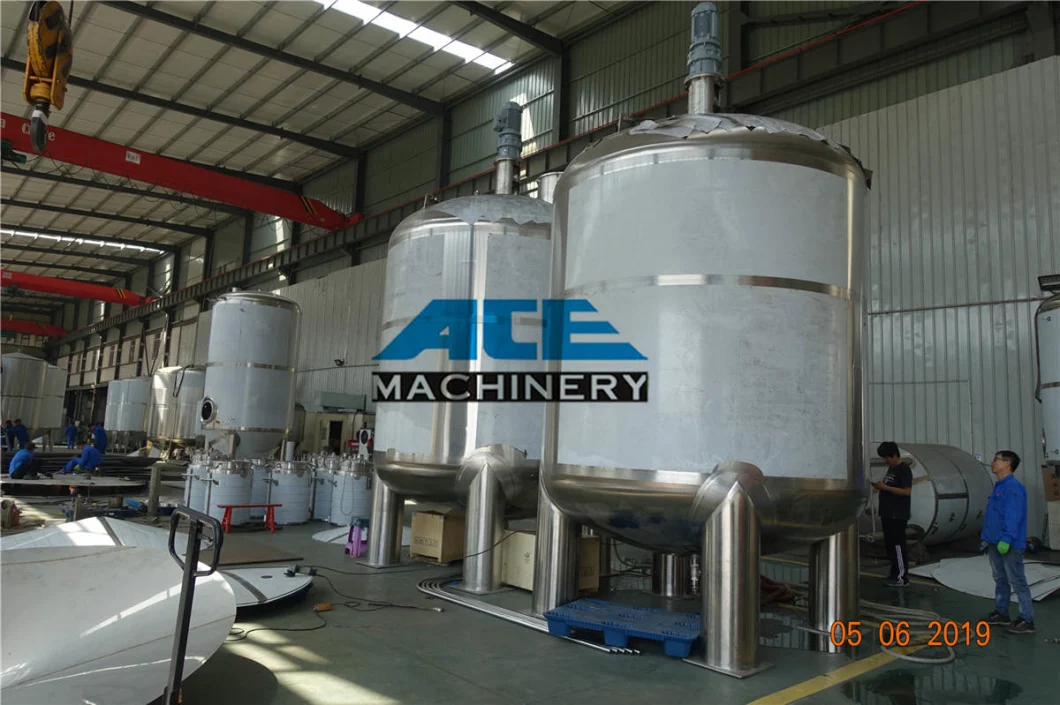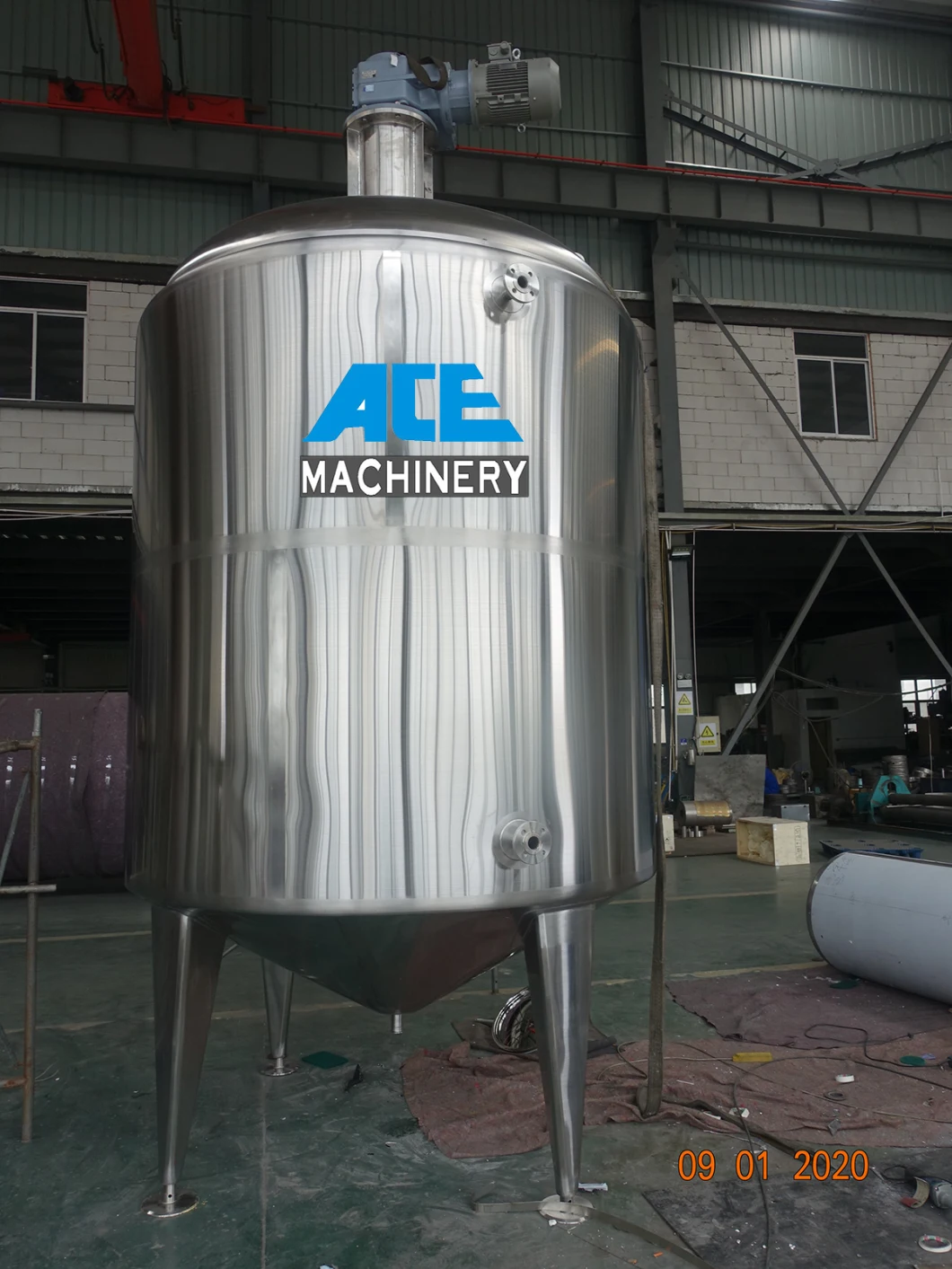 CE certificate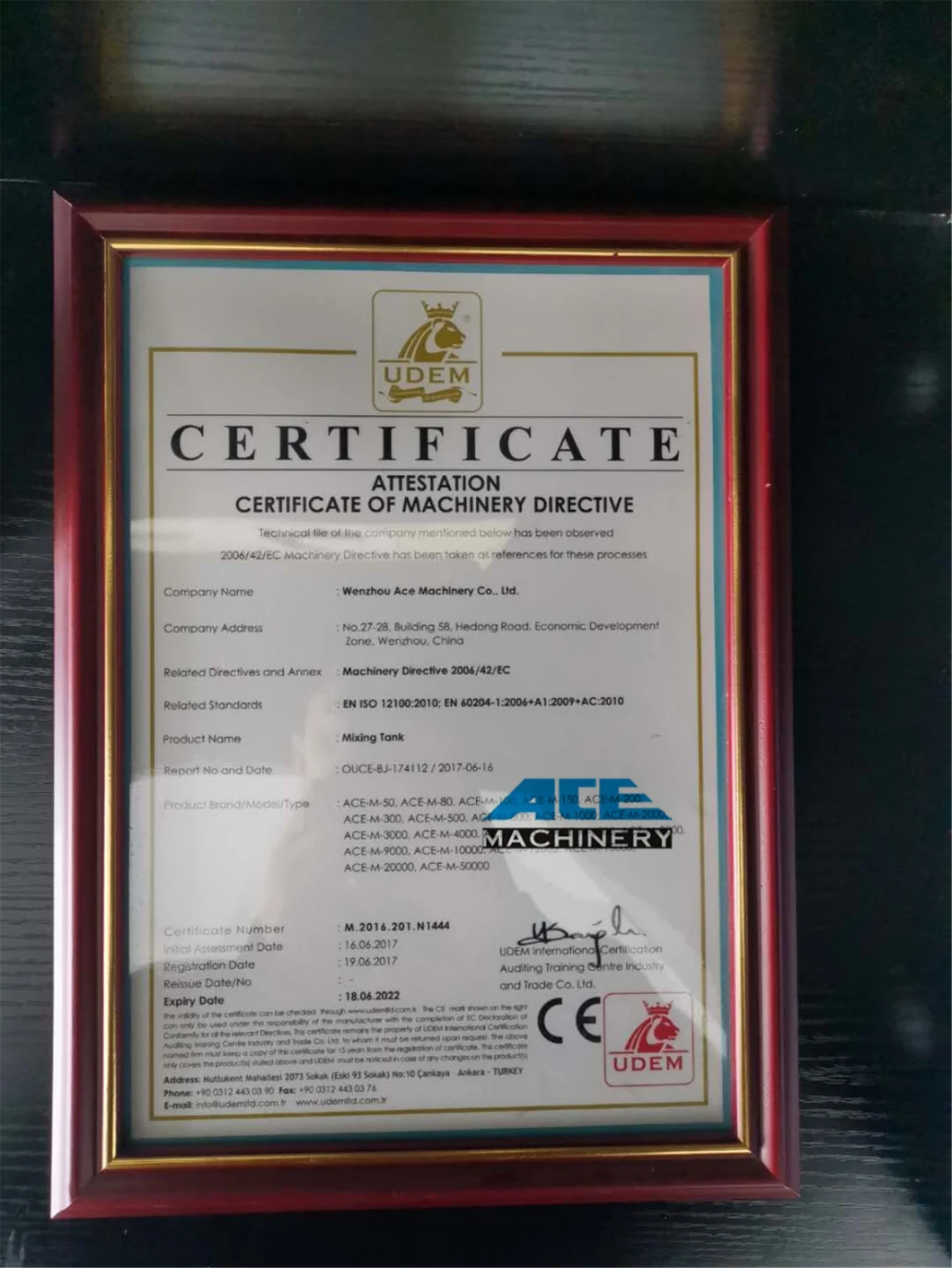 Why Choose ACE
Ace has over 10 years of experience in manufacturing,designing and sales.
Ace is extremely strict with the quality of our products,all the products are tested before shipping.
Ace stocks a wide range of stills and equipments--ready to ship,we can arrange Super fast shipping for our customers.
Ace has a complete production line,this allows us to make custom products with low/no MOQ.
FAQ:

Q:Are you a manufacturer?
A:Yes we are,our workshop has over 10 years of experiences in the industry and we can do custom orders.

Q:What's the lead time?
A:Most of items can be shipped within 10 work days, for custom order we normally need around 20 days.

Q:What's the MOQ?
A:We do not require MOQ on mixing tank.

Q:What's your policy on warranty?
A:We provide 2 years warranty on stills and 1 year on electrical elements. We will provide free replacements and needed info immediately if something goes wrong.

Q:What happens if there's damage or item missing in my order?
A:We try very hard to avoid mistakes and we are sorry if it happens, you can give us a call or send an email , we will provide compensation or free replacements as soon as possible.

Q:Can I visit your workshop?
A:Our workshop located in binhai,wenzhou and it's not far away from the airport,we welcome you to visit us anytime.