Powerful Neodymium Magnets with Countersunk Holes Countersunk Magnet
| | |
| --- | --- |
| Item | Countersunk Magnet |
| Gauss | N35-N52, N35m-N50m, N35h-N48h, N33sh-N45sh |
| Working Temp | 80~200 Degree |
| Specification | Customized Size |
| Certification | RoHS Test, ISO9001 |
| Casing | Zinc, Nickel |
| Lead Time | 5~7 Days |
| Transport Package | Box or Carton |
| Payment Term | T/T, L/C, Western Union, Paypal |
| Express | DHL, FedEx, TNT,UPS ect |
| Application | Electronic Products, Industrial Magnet, Motor Magnet, Food industry, Ceramic industry ect |
| Feature | Eco-friendly, Green Product, long life. |
| Performance | Permanent, Strong, Rust-proof, Anti-corrosion |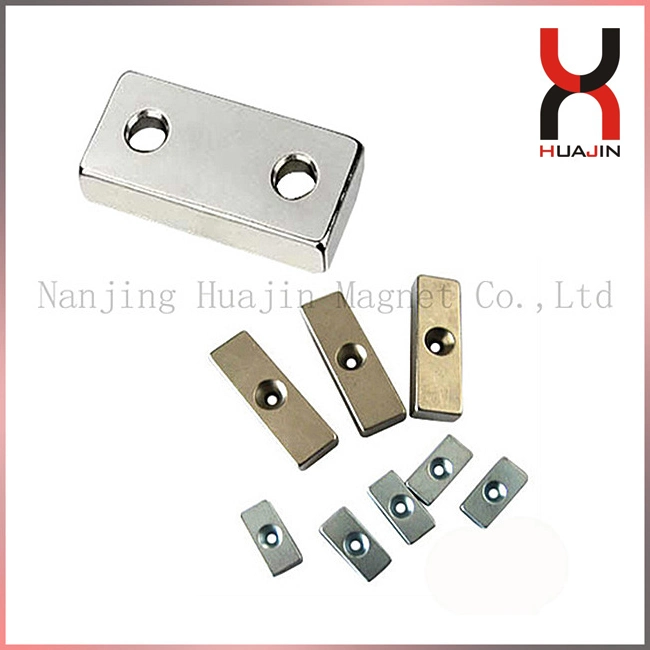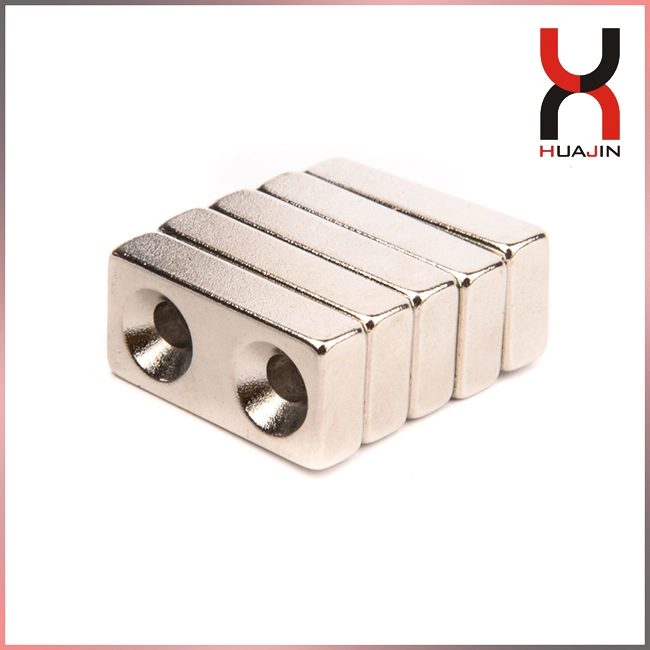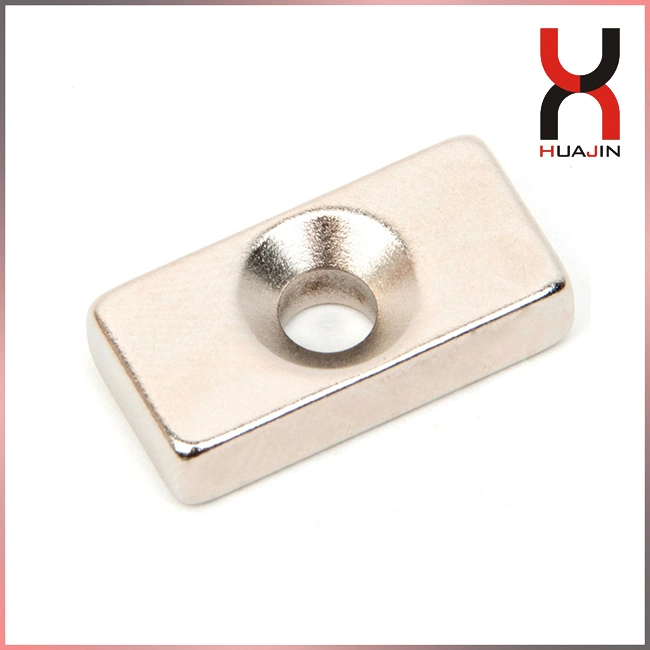 MAGNETIC AND PHYSICAL CHARACTERISTICS
Series
Grade
Remanence
Coercive Force
Intrinsic Coercive force
Max. Energy Product
Max. Working Temp.
Br
Hcb
Hci
(BH) max
L/D=0.7
T
kGs
KA/m
KOe
KA/m
KOe
KJ/m3
MGOe
ºC
°F
N
N35
1.17-1.24
11.7-12.4
≥860
≥10.8
≥955
≥12
263-295
33-37
80
176
N38
1.22-1.30
12.2-13.0
≥860
≥10.8
≥955
≥12
287-318
36-40
80
176
N40
1.26-1.32
12.6-13.2
≥860
≥10.8
≥955
≥12
302-334
38-42
80
176
N42
1.29-1.35
12.9-13.5
≥860
≥10.8
≥955
≥12
318-350
40-44
80
176
N45
1.32-1.38
13.2-13.8
≥860
≥10.8
≥955
≥12
334-366
42-46
80
176
N48
1.37-1.43
13.7-14.3
≥836
≥10.5
≥876
≥11
358-390
45-49
80
176
N50
1.40-1.45
14.0-14.5
≥836
≥10.5
≥876
≥11
374-406
47-51
80
176
N52
1.42-1.48
14.2-14.8
≥836
≥10.5
≥876
≥11
390-422
49-53
80
176
N54
1.45-1.51
14.5-15.1
≥836
≥10.5
≥876
≥11
398-438
50-55
80
176
M
N35M
1.17-1.24
11.7-12.4
≥860
≥10.8
≥1114
≥14
263-295
33-37
100
212
N38M
1.22-1.30
12.2-13.0
≥915
≥11.5
≥1114
≥14
287-318
36-40
100
212
N40M
1.26-1.32
12.6-13.2
≥939
≥11.8
≥1114
≥14
302-334
38-42
100
212
N42M
1.29-1.35
12.9-13.5
≥955
≥12.0
≥1114
≥14
318-350
40-44
100
212
N45M
1.32-1.38
13.2-13.8
≥987
≥12.4
≥1114
≥14
334-366
42-46
100
212
N48M
1.37-1.43
13.7-14.3
≥1019
≥12.8
≥1114
≥14
358-390
45-49
100
212
N50M
1.40-1.45
14.0-14.5
≥1043
≥13.1
≥1114
≥14
374-406
47-51
100
212
N52M
1.42-1.48
14.2-14.8
≥1059
≥13.3
≥1114
≥14
390-422
49-53
100
212
H
N35H
1.17-1.24
11.7-12.4
≥876
≥11
≥1350
≥17
263-295
33-37
120
248
N38H
1.22-1.30
12.2-13.0
≥915
≥11.5
≥1350
≥17
287-318
36-40
120
248
N40H
1.26-1.32
12.6-13.2
≥939
≥11.8
≥1350
≥17
302-334
38-42
120
248
N42H
1.29-1.35
12.9-13.5
≥963
≥12.1
≥1350
≥17
318-350
40-44
120
248
N45H
1.31-1.37
13.1-13.7
≥979
≥12.3
≥1350
≥17
335-366
42-46
120
248
N48H
1.37-1.43
13.7-14.3
≥1011
≥12.7
≥1274
≥16
358-390
45-49
120
248
N50H
1.40-1.45
14.0-14.5
≥1027
≥12.9
≥1274
≥16
374-406
47-51
120
248
SH
N33SH
1.14-1.21
11.4-12.1
≥852
≥10.7
≥1592
≥20
247-279
31-35
150
302
N35SH
1.17-1.24
11.7-12.4
≥876
≥11
≥1592
≥20
263-295
33-37
150
302
N38SH
1.22-1.29
12.2-12.9
≥915
≥11.5
≥1592
≥20
287-318
36-40
150
302
N40SH
1.26-1.32
12.6-13.2
≥939
≥11.8
≥1592
≥20
302-334
38-42
150
302
N42SH
1.29-1.35
12.9-13.5
≥963
≥12.1
≥1592
≥20
318-350
40-44
150
302
N45SH
1.32-1.38
13.2-13.8
≥994
≥12.5
≥1592
≥20
335-366
42-46
150
302
UH
N30UH
1.08-1.16
10.8-11.6
≥812
≥10.2
≥1990
≥25
223-255
28-32
180
356
N33UH
1.14-1.21
11.4-12.1
≥852
≥10.7
≥1990
≥25
247-279
31-35
180
356
N35UH
1.17-1.24
11.7-12.4
≥876
≥11
≥1990
≥25
263-295
33-37
180
356
N38UH
1.22-1.29
12.2-12.9
≥915
≥11.5
≥1990
≥25
287-318
36-40
180
356
N40UH
1.26-1.32
12.6-13.2
≥939
≥11.8
≥1990
≥25
302-334
38-42
180
356
N42UH
1.29-1.35
12.9-13.5
≥963
≥12.1
≥1990
≥25
318-350
40-44
180
356
EH
N30EH
1.08-1.15
10.8-11.5
≥812
≥10.2
≥2388
≥30
223-255
28-32
200
392
N33EH
1.14-1.21
11.4-12.1
≥851
≥10.7
≥2388
≥30
247-279
31-35
200
392
N35EH
1.17-1.24
11.7-12.4
≥876
≥11
≥2388
≥30
263-295
33-37
200
392
N38EH
1.22-1.29
12.2-12.9
≥915
≥11.5
≥2388
≥30
287-318
36-40
200
292
AH
N28AH
1.04-1.12
10.4-11.2
≥772
≥9.70
≥2786
≥35
207-239
26-30
230
446
N30AH
1.08-1.15
10.8-11.5
≥812
≥10.2
≥2786
≥35
223-255
28-32
230
446
N33AH
1.14-1.21
11.4-12.1
≥852
≥10.7
≥2786
≥35
247-279
31-35
230
446
Applications of Sintered NdFeB Magnets
| | |
| --- | --- |
| · Automotive Starters | · Microphone Assemblies |
| · Computer Rigid Disc Drives | · Particle Accelerators |
| · DC Motors | · Printers |
| · Headphone | · Relays |
| · Halbach Arrays | · Servo Motors |
| · Linear Actuators | · Stepper Motors |
| · Linear Motors | · Switches |
| · Loud Speakers | · Undulators |
| · Magnetic Bearings | · Vacuum Deposition |
| · Magnetic Couplings | · Voice Coil Motors (VCM) |
| · Magnetic Separators | · Wind Turbines |
The production process:
Neodymium magnets are actually composed of neodymium, iron and boron
(they are also referred to as NIB or NdFeB magnets). The powdered mixture is pressed under great pressure into molds. The material is then sintered (heated under a vacuum), cooled, and then
ground or sliced into the desired shape. Coatings are then applied if required. Finally, the blank magnets are magnetized by exposing them to a very powerful magnetic field in excess of 30 KOe.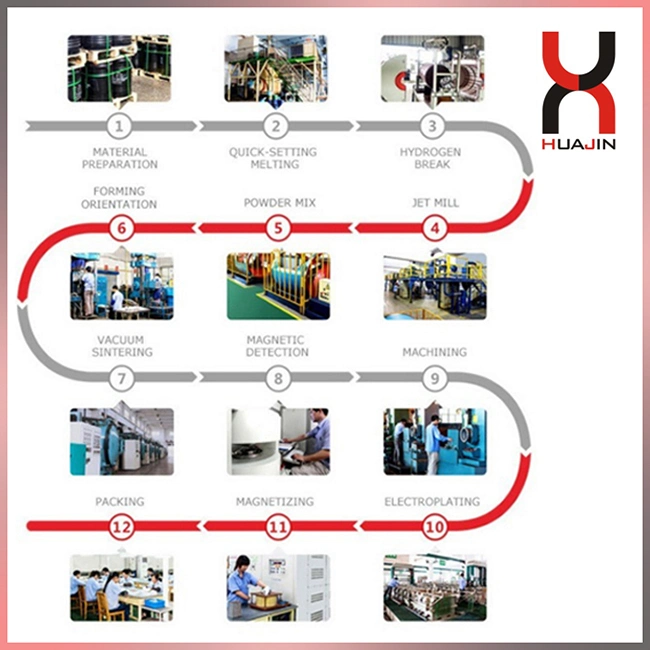 Advantages of Sintered Magnet
1.
Extreme strong Br Resident induction.
2.
Excellent demagnetization resistance capability.
3.
Good Price relative to its high magnetic properties.
Our Company
Nanjing Huajin Magnetic Materials Co., Ltd. Specializing in the production and sale of magnetic NdFeB, magnetic bar, magnetic products, magnetic frame. Magnets of various shapes and sizes can be produced according to customer requirements, such as packaging diskette, the motor magnetic tile, magnetic ring, toy bar magnet, magnetic ball, with the exception of iron magnetic rods, magnetic hooks, magnetic separator box; Surface treatment: Gold, silver, plated epoxy, nickel-plated copper-nickel, zinc, chromium, titanium (blue zinc, black zinc, color zinc), above the surface treatment to meet environmental requirements.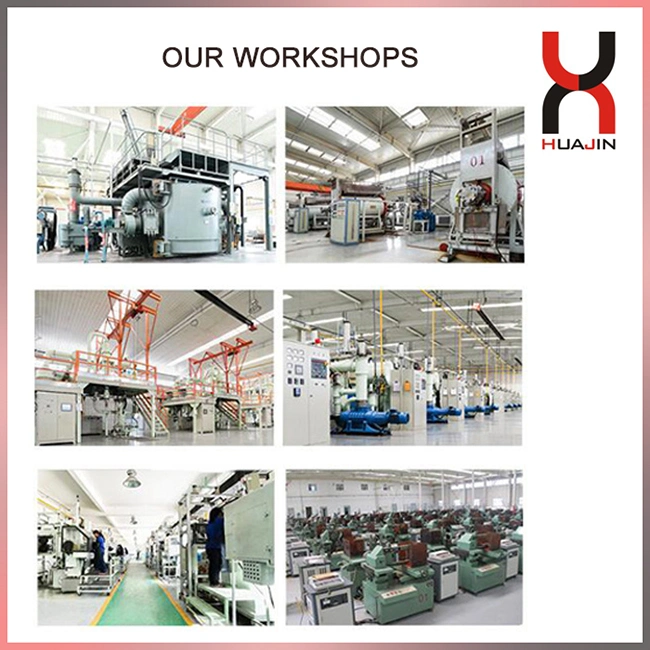 Custom
ized
Service
1. Customized Material Neodymium Grade
:
N35-N52, N35M-N50M, N35H-N48H, N33SH-N45SH, N30UH-N35UH, N30EH-N35EH
;
2. Custom
ized
Shaped magnet
:
Round
/
block
/
r
ing / cylinder / countersunk / arc / segment other irregular shapes.
3. Custom packaging. Usually we packed the magnet with vacuum polybag. Then packed in stop magnetic metal box. We can also make the package as your requirements.
4. Custom
ized Mark: to distinguish N pole and S pole.
5. Custom coating. We can coated in Nickel. Z
inc, Chromium
as your requirements.
6. Customized Working temperature: <80ºC/ 80ºC-200ºC
Our advantage:
1. More than 10-year magnet manufacturing experience, quality, lead time, price and service have been gauranteed.
2. Professional R&D department, with a professional technologist team.
3. Much Experienced Export Customs Declare Team.
4. Low MOQ and free samples.
Payment Term:
T/T, L/C, Western Union, PayPal.
Package & Shipment
1. By Express(DHL, FedEx, TNT, UPS ect): Door to door, Short Delivery time, 3-5 days.
2. By Air: Short Delivery Time, 3-7 days.
3. By Sea: Cheap Shipping Cost, 7-35 days.

Package: Magnetic Isolation Package
Carton: 36*27*15C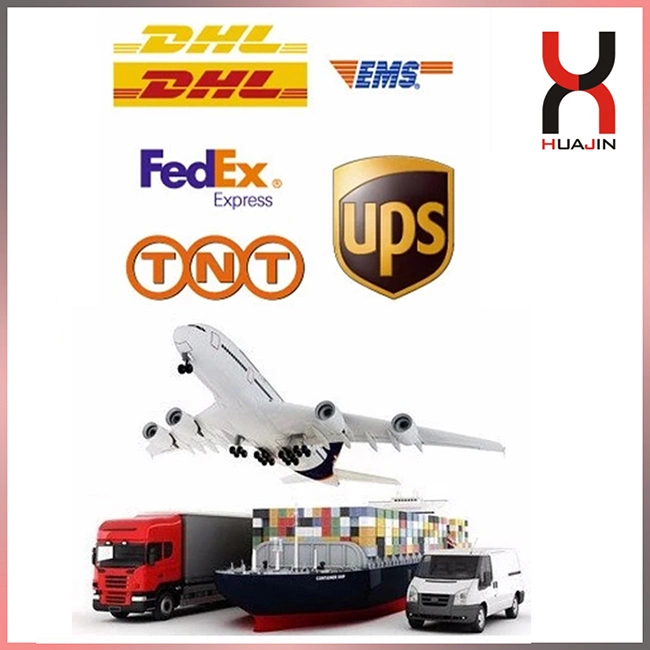 FAQ:
1. How to get prompt quotation?
Kindly offer us the specific size, quantity, coating(zinc/nickel), magnetism direction ect other requiries. Then best price will be offered ASAP.
2.What about the lead time?
(1) Sample: 5-7 days.
(2) Batch quantity: 7-9 days.

3.What's the MOQ?
(1) Spot Stocks: No MOQ;
(2) Regular Size: 500 PCS, 1000 PCS, 2000 PCS, 5000 PCS ect.
(3) Other Size: 2000 PCS, 5000 PCS, 10000 PCS ect.

4. Terms of Paymemt:
(1). T/T in advance(telegraphic transfer-bank order)
(2). Western Union cash - for samples order.
(3). PayPal- for samples order, quick receipt
Caution:
Neodymium magnets can be dangerous, as they generate extremely strong pull forces, therefore must be handled with care to avoid personal injury and damage to the magnets. Fingers and other body parts can get severely pinched between two attracting magnets. Neodymium magnets are brittle, and can shatter if allowed to slam together, launching small pieces at great speeds. Eye protection should be worn when handling there magnets.
Product Catalogue:
Please feel free to contact me for any questions and requiries!