Mounting magnet swivel hook magnet neodymium hook magnets Description
This Neodymium Swivel Hook Magnet Dia. 36mm is no ordinary piece of magnet.
It has a hook that can swing 180° upwards or downwards assembled on a 360° free rotation swivel mounted on a metal casing with a strong ring neodymium magnet inside.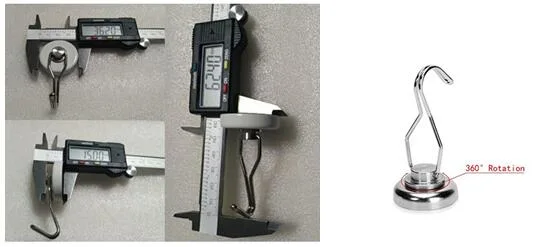 This assembly allows the swivel hook magnet to work effectively on both horizontal and vertical surfaces. The advantage of the swivel base means you can use this hook magnet to hold objects or packages in any facing direction, lift up excess length of wires on power tools and not worry about entangled wires should you move around too much.
On a vertical metal surface, the hook will automatically fold downwards as you hang objects ensuring a lower hook profile, the taller a hook profile, the easier it is to slide or drop.
On a upside down horizontal surface, the hook will automatically stay perpendicular to the ground due to gravity, this allows you to hang or hold stuff on metal beam or ceiling without needing to drill holes. Furthermore, the swing and swivel base will lean slightly towards the direction the object is being pulled, improving the stability of the magnetic base attachment to metal surfaces.
Mounting magnet swivel hook magnet neodymium hook magnets specification
This swivel hook magnet is the model of NG36.
If you are interested other size, please see it as follows, or consult us.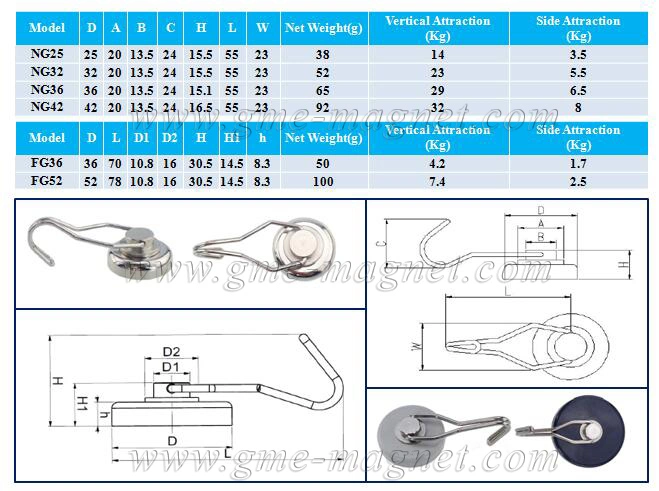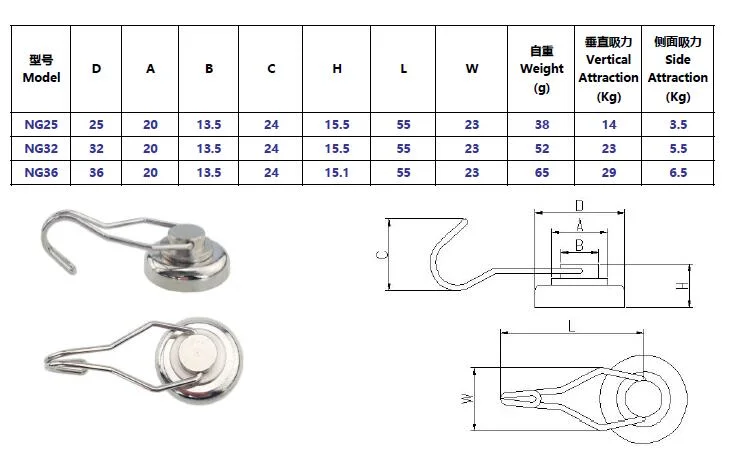 Advantages of
Mounting magnet swivel hook magnet neodymium hook magnets
- No drilling of holes
- No Sticky Residue
- Easy to Install or Remove
- Repositionable
- Reusable
Mounting magnet swivel hook magnet neodymium hook magnets application
Hang job ticket holders, tools or Manage your cable mess. Hang outdoor Christmas and birthday decorations. Use on refrigerator, tool box, office cabinets, steel shelf, dryer, RV, workbench