Description of Neodymium Fishing Magnet NdFeB Magnetic Fishing:
Magnet Fishing, Neodymium Fish Magnet is 120mm in diameter, adopt strong magnet for its base. Pull Force of this version is above 600KG(1300 lbs). Besides, this fishing magnet has permanent magnetism, so it will be the same powerful even decades after.
Neodymium Fishing Magnet, Fishing Magnet is made of a super strong neodymium magnet encased inside a nickel plated steel pot. The sintered NdFeB magnet is bonded inside of the pot with strong adhesives. Besides, the steel pot can also protect the magnet from being damaged. The eyebolt will be convenient for us to remove and install fish magnet.

Neodymium Fishing Magnet is widely used for salvaged of various iron material underwater and great for lifting, hanging, retrieving applications.
1. Grade of Neodymium Magnet: N35-N54, N35M-N52M, N33H-N50H, N30SH-N50SH, N30UH-N50UH, N30EH-N42EH, N28TH-N38TH
2. Shape and Size: Round, Rectangle, Special Shapes etc, all sizes or shapes can be customized.
3. Coating: Nickel, Zinc, Black Epoxy, Color Painting etc.
4. Direction of Magnetisation: Axially, Radially, Thickness etc.
Production Time of Neodymium Fishing Magnet NdFeB Magnetic Fishing
:
Samples are available, and lead time is 3-15 days, based on material and dimensions. Free samples are also ok if we have samples of neodymium fishing magnets in our stock. Production time of batch order is 15-30 days except large quantity.
Below are our standard sizes of Neodymium Fishing Magnet NdFeB Magnetic Fishings, you can choose the one you perfer. If you have specific requirements about dimensions or pull force, please contact us directly, and our engineers will design it for you: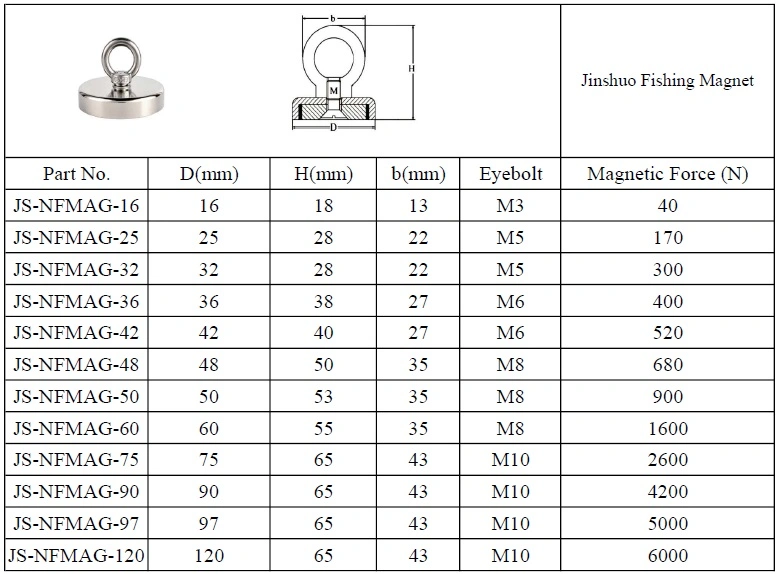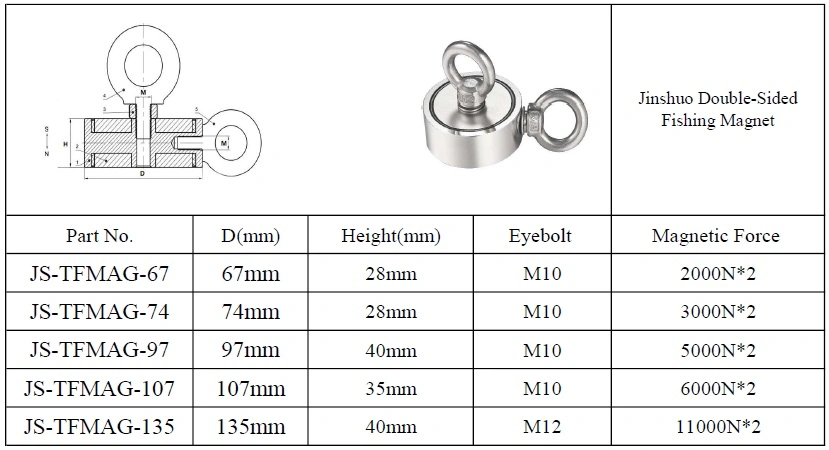 Details About Neodymium Fishing Magnet NdFeB Magnetic Fishing: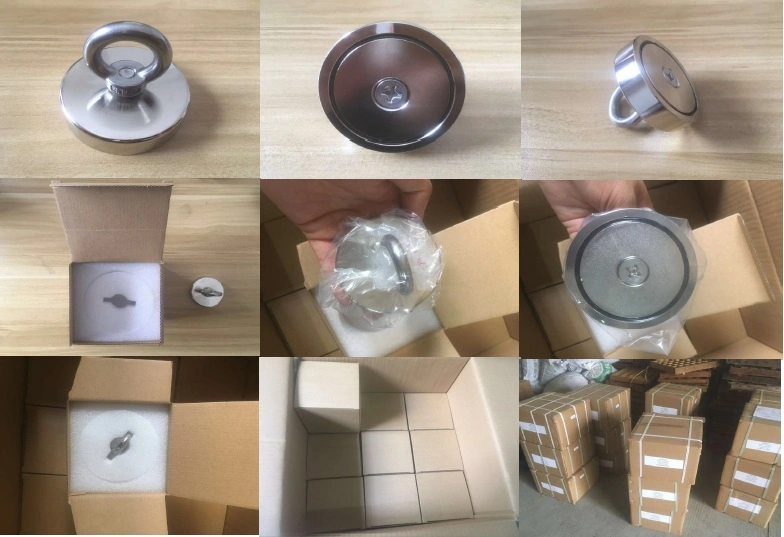 Application of Neodymium Fishing Magnet NdFeB Magnetic Fishing
: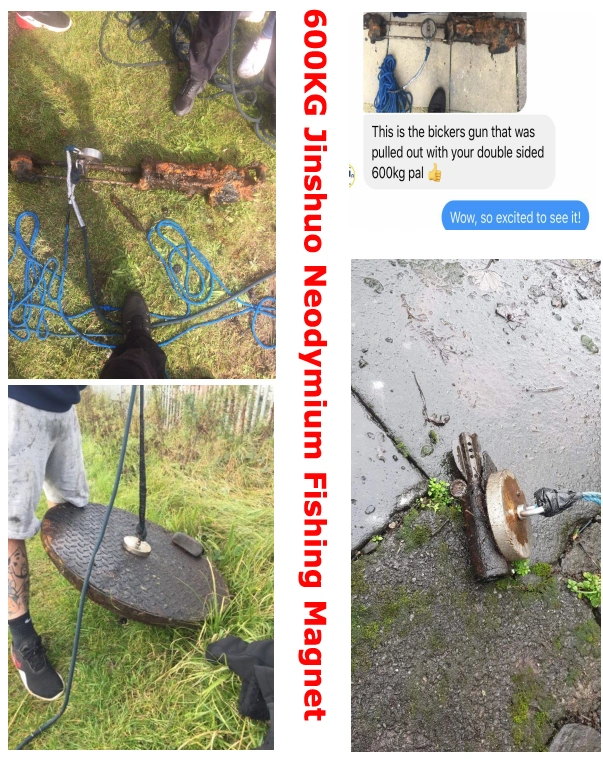 Inspection of Neodymium Fishing Magnet NdFeB Magnetic Fishing
:
Normally neodymium fishing magnets will be sampling inspected when they are finished.
If you have requirements about inspection, like full inspection, we will also do it for you.
Pictures of finished magnets, package, demagnetizing curves, inspection report will be provided when goods are ready.
Package and Shipping Methods :
Standard Export Package, such as shielding carton, wooden case, pallet etc.
Goods will be sent out by Express ( UPS, DHL, Fedex, TNT ), By Air, By Sea etc.
Enquiry About Nedoymium Fishing Magnet Rare Earth Magnetic Fishing
:
In order to get a suitable quote quickly from us, please provide us:


1. Dimensions of neodymium fishing magnet you need, drawing will be perfect.
2.

Requirements about pull force

or your application.
3. Coating: Nickel, Zinc, Cr, Epoxy, Color etc.
4. Quantity
5.

Shipping Method

, By Express, By Air or By Sea.
6.

Other requirements

(Package, Inspection etc)