Descriptioin of Neodymium Magnet Sintered NdFeB Magnet:
Neodymium magnet is a permanent magnet made from an alloy of neodymium, iron and boron. NdFeB magnet are widely used in various fields, such as motors, speakers, electric generators etc. Besides, neodymium magnet is the strongest type of permanent magnet commercially available.
1. Grade of Jinshuo Neodymium Magnet: N35-N54, N35M-N52M, N33H-N50H, N30SH-N50SH, N30UH-N50UH, N30EH-N42EH, N28TH-N38TH
2. Shape and Size: Disc, Cylinder, Ring, Rectangle, Countersunk, Segment, Sphere, Special Shapes etc, all sizes or shapes can be customized.
3. Coating: Nickel, Zinc, Black Epoxy, Au(Golden) and so on.
4. Direction of Magnetisation: Axially, Radially, Thickness etc.
5. Application of Neodymium Magnet: Neodymium Magnets are widely used in various fields, such as motors, speakers, electric generators, separators, constructions, toys, holdings etc.


Surface Treatment
Thickness(Microns)
Color
Resistance
Salt Spray Test Standard(hours)

Passivation

1

Silver Grey

Temporary Protection

Nickel

10-20

Bright Silver

Excellent Against Humidity

24-48

Black Nickel

10-20

Bright Black

Excellent Against Humidity

48-72

Zinc

8-20

Bright Blue

Good Against Salt Spray

24-48

Au

10-20

Gold

Superior

Against Humidity

Epoxy

15-25

Black/Re/Grey

Excellent

Against Humidity & Salt Spray

24-72

Chemical Nickel

10-20

Silver Grey

Excellent Against Humidity

Details About Neodymium Magnets Rare Earth Permanent Magnet: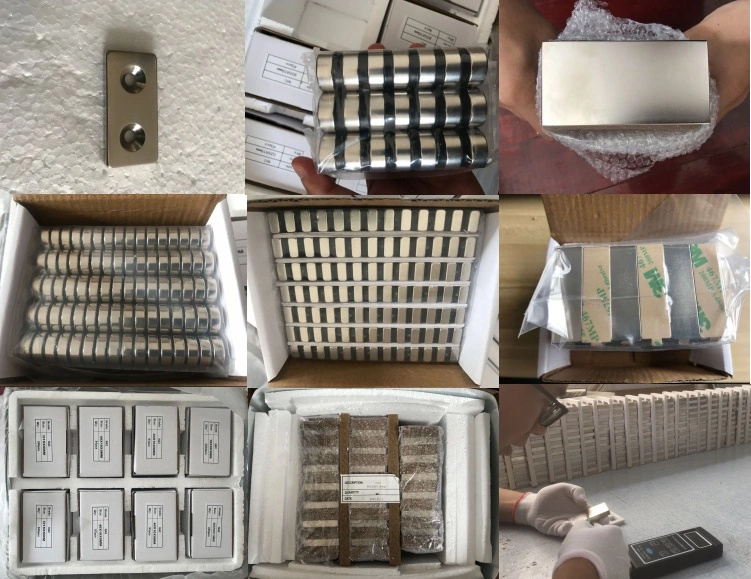 Production Time of Neodymium Magnets Sintered NdFeB Magnet:
Samples are available, and production time is 3-15 days, based on material and dimensions. Free samples are also ok if we have materials in our stock. Lead time of batch order is 15-30 days except large quantity.

Inspection of Neodymium Magnets:
Normally goods will be sampling inspected when they are finished.
If you have requirements about inspection, like full inspection, we will also do it for you.
Pictures of finished magnets, package, demagnetizing curves, inspection report will be provided when goods are ready.

Package and Shipping Methods:
Standard Export Package, such as shielding carton, wooden case, pallet etc.
Goods will be sent out by Express ( UPS, DHL, Fedex, TNT ), By Air, By Sea etc.





Enquiry About Neodymium Magnets:
In order to get a suitable quote quickly from us, please provide us:
1. The grade of neodymium magnet you need, and you can choose the one below you prefer;
The number(such as 35, 42, 52 etc) represents magnetic strength, N52 is stronger than N35.
The Letter (M, H, SH etc) represents working temperature, and the max working temperature of TH(AH) is the highest.
2. Dimensions of neodymium magnet you need, drawing will be perfect.
3. Magnetized Direction, Axially, Radially, Thickness etc.
4. Coating, like Nickel, Zinc, Black Epoxy, Au etc.
5. Quantity
6. Shipping Method, By Express, By Air or By Sea.
7. Other requirements (Package, Inspection etc)